Turkey and Stuffing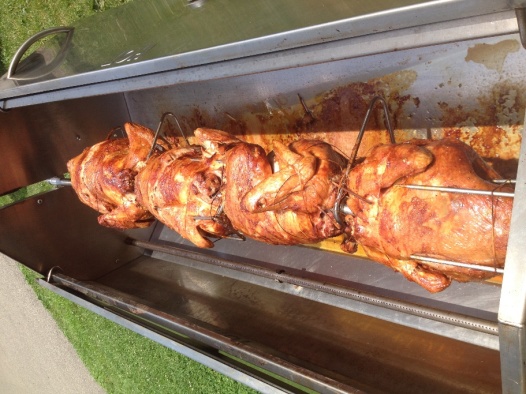 Its that time of year again! There can be all kinds of pressure leading up to the big day, but preparing your spit roasted turkey shouldn't be one of them. With capacity for upwards of 4 whole turkeys to cook directly on the spit (or more if using the roaster baskets) the PigOut Roaster will be sure to feed an army or a hungry family. Here are some tips for preparing turkey on the roaster.
What you will need:
1 x 15-20lb fresh turkey (or more depending on size of crowd)
Salt and pepper
1 bunch Fresh sage
Poultry seasoning
Vegetable oil
Butcher twine
Start by removing the giblets and neck from the carcass of the turkey. Ensure your turkey is fully thawed. Lightly coat the turkey with vegetable oil and season the inside and outside with salt, pepper and poultry seasoning to taste. Take a bunch of fresh sage and put inside the carcass of the bird. Secure the turkey to the roasting pole using 2 x four prong clamps on either end of the bird. You may need to use butcher twine to hold the legs and wings in to prevent from burning. Roast the turkey on medium high heat (400°-425°C) for 2 hours (approx. 10lb/hour).
Due to the nature of cooking we do not recommend stuffing a turkey. Here is a great recipe for stuffing that can be made in advance and warmed on the roaster or in your oven.
Ingredients:
½ c. butter
4 large celery stalks - diced
1 large onion, diced
2 large carrots, diced
1 tsp. fresh thyme
1 tsp. salt
1 tsp. pepper
2 bay leaves
2 tbsp. fresh sage
1-liter chicken broth
2 loaf sliced firm white bread
½ c. loosely packed fresh parsley leaves
Preparation
In a medium sized pot melt butter and add celery, onion, carrot, bay leaf and sauté until tender.
add thyme and sage, and broth and bring to a simmer for 15 min
dice the bread into bite size cubes and place into a mixing bowl, add the broth and vegetable mixture to the bread with the fresh parsley and stir until the bread is moist
place into a lightly greased baking dish and cook in roaster uncovered at 350°c on roaster racks for about 20min.
Enjoy! Check out more of our great Roaster Recipes and Perfect Pairings!