Roaster Recipes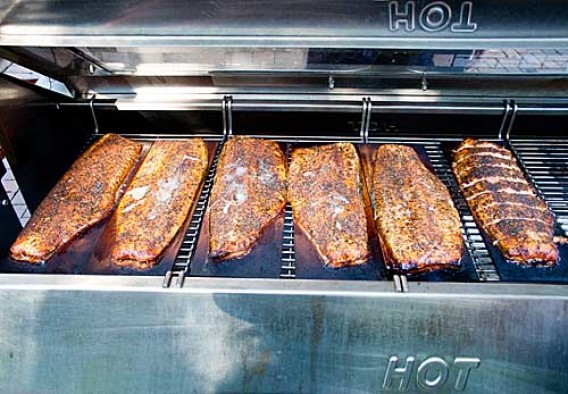 Canadian Cedar Plank Salmon
Ingredients:
1 side of Salmon, Skin Attached and Pin Bones Removed
¼ cup Grainy Dijon Mustard
½ cup Maple Syrup
¼ cup Soy Sauce
1 tsp finely chopped green chili or red pepper flakes (optional)
1 tbsp. Finely Chopped Parsley
1 Untreated Cedar Grilling Plank
Preparation
Soak cedar plank for 3 hours in room temperature water (overnight works best)
Combine all ingredients and pour over top of salmon and let marinade for 3 hours (overnight works best)
Place salmon side on soaked cedar plank and trim off any excess meat
Roast with grill racks on medium heat (325° F) for approx. 20-30 min or until desired temperature is reached
Serve with pineapple salsa
Pineapple Salsa

Ingredients:
2 pounds pineapple, diced
10 Roma tomatoes, diced
1 bunch finely chopped cilantro (about 1 cup)
1 cup red onion, finely chopped
3-4 jalapeno peppers, seeded and finely chopped (about ½ cup or more to taste)
2 tablespoons fresh lime juice (from 2 limes)
Salt and freshly ground black pepper
Preparation
In a large bowl, combine pineapple, tomatoes, cilantro, red onion, and jalapenos. Add lime juice and toss to coat.
Season to taste with salt and pepper. Allow flavors to blend at room temperature for 30 minutes, or chill until serving time.
Roasted Pig
Ingredients:
1 whole pig (size varies)
Kosher salt or course salt
Black pepper
Preparation
Secure pig to roaster pole following the directions in the PigOut Roaster instruction manual
Score the skin with a sharp knife diagonally top to bottom in one direction on both sides of the pig, starting at the shoulder going back to the ham (not diamond pattern)
Liberally rub the pig, inside and out with kosher salt and black pepper or any spice mixture you prefer (use caution when using any seasoning rubs with a high sugar content as this may cause the skin to burn prematurely)
Roast on high heat (400°-425°F) one hour for every 20lb of pig plus one hour i.e. 60lb pig 4 hours of cooking
Check internal temperature of the thickest part of the shoulder being carful not to go to far in with the probe. Temperature should be above 165°F
In case of high winds wrap tin foil around the handles of the machine to close off the air gaps on the ends of the roaster. Keep an eye on the temperature gauge as it may reach very high heat. This also helps for the last hour of cooking to guarantee that you have nice crispy skin.
Roasted Beef Striploin
Ingredients:
1 whole beef striploin, fat trimmed approx. 10-15lb in size
12 garlic cloves
¼ cup fresh rosemary leaves
¼ cup fresh thyme leaves
¼ cup olive oil
¼ cup course salt
¼ cup ground black pepper
Preparation
Combine all ingredients in food processor and blitz until a paste is formed
Rub paste onto striploin and let marinate overnight
Roast with grill racks, fat side up on high heat (400°-425°F) Roast meat until instant-read thermometer inserted into thickest part of meat registers 130°F for medium-rare, approx. 1 ½-2 hours (or 140°F for medium). Remove from roaster; let rest 20 minutes.
Meat can also go into PigOut rotisserie baskets capacity for approx. 12 whole roasts
BBQ Ribs
Ingredients:
1 ½ cups Rib Rub (use your favorite recipe or store bought)
2 racks pork St. Louis style cut spareribs, membrane removed
2 cups PigOut Smokin BBQ Sauce
Preparation
Rub both sides of the pork spareribs with the spice mixture. Place the ribs in a 9x13-inch baking pan; cover and refrigerate overnight.
Tear off 2 large sheets of heavy duty aluminum foil and lay them shiny-side down. Place a rack of spareribs on each sheet, meaty-side up. Tear off 2 more sheets of foil and place them on top of the ribs, shiny-side up. Begin tightly folding the edges of the foil together to create a sealed packet.
Roast on medium heat (325°-350°F) with the rib racks until the ribs are very tender, approx. 3 hours Carefully open each packet, and drain the drippings, brush the sauce over the ribs.
Place ribs back in the rib racks and lightly caramelize the sauce for 5-7 minutes
Aluminum foil helps keep food moist, ensures it cooks evenly, keeps leftovers fresh, and makes clean-up easy.
Asian Ginger Slaw
Ingredients:
1 tablespoon sesame seeds
4 cups thinly sliced Napa cabbage
1/2 cup thinly sliced green onions
3 tablespoons rice vinegar
2 tablespoons vegetable oil
1 tablespoon minced peeled fresh ginger
1 teaspoon oriental sesame oil
1 teaspoon sugar
Preparation
Stir sesame seeds in small dry skillet over medium heat until light golden, about 3 minutes. Set aside.
Combine cabbage and green onions in large bowl. Add vinegar, veg oil, ginger, sesame oil, and sugar and toss to blend. Season to taste with salt and pepper. (Can be prepared 2 hours ahead. Cover and refrigerate. Toss before continuing.) Sprinkle with sesame seeds and serve.
Creamy Apple and Poppy Seed Slaw
Ingredients:
2 cups shredded green cabbage
1 1/2 cups shredded red cabbage
1/2 cup shredded carrot
1 Granny Smith apple, julienned
3 tablespoons mayonnaise
1 tablespoon apple cider vinegar
2 tablespoons honey
1 tablespoon poppy seeds
Kosher salt and freshly ground black pepper to taste
Preparation
In a large bowl, combine the green cabbage, red cabbage, carrot and apple.
In a large glass measuring cup or another bowl, whisk together the mayonnaise, cider vinegar, honey, poppy seeds, salt and pepper, to taste.
Pour mixture over cabbage mixture and stir using a rubber spatula until well combined. Cover and place in the refrigerator for 1 hr
Pulled Pork
Ingredients:
8-10 lb boneless pork shoulder
3 cups PigOut Sweet and Smokey BBQ sauce
6 cups water
Course salt and black pepper
Additional BBQ sauce for serving
*roaster capacity is 4 chaffing pans full of pork
Preparation
Season pork shoulder with course salt and black pepper
Place into chaffing water pan with BBQ sauce and water and seal tightly with aluminum foil
Place chaffing pan directly into roaster and roast on low heat (275°-300°F) for approx. 5-8 hours or until tender enough to shred with a fork
Remove from heat and shred pork in the juices while the pork is still hot using a fork and scissors to cut down the long strands of meat
Mix additional sauce into cooked pork until desired consistency is reached.
Enjoy these great recipes made on your PigOut Roaster. They go great with our Perfect BBQ Pairings!
If you have any suggestions for future recipes, let us know and we would be happy to post about them!