Perfect BBQ Pairings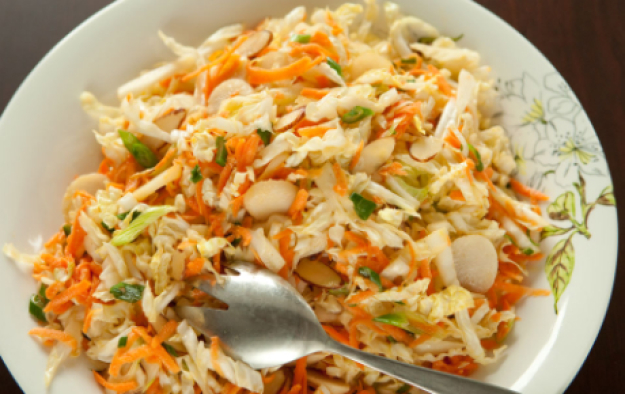 Tangy Asian Ginger Slaw
Ingredients:
1 tablespoon sesame seeds
4 cups thinly sliced Napa cabbage
1/2 cup thinly sliced green onions
3 tablespoons rice vinegar
2 tablespoons vegetable oil
1 tablespoon minced peeled fresh ginger
1 teaspoon oriental sesame oil
1 teaspoon sugar
Preparation
1. Stir sesame seeds in small dry skillet over medium heat until light golden, about 3 minutes. Set aside.
2. Combine cabbage and green onions in large bowl. Add vinegar, veg oil, ginger, sesame oil, and sugar and toss to blend. Season to taste with salt and pepper. (Can be prepared 2 hours ahead. Cover and refrigerate. Toss before continuing.) Sprinkle with sesame seeds and serve.
Creamy Apple and Poppy Seed Slaw
Ingredients:
2 cups shredded green cabbage
1 1/2 cups shredded red cabbage
1/2 cup shredded carrot
1 Granny Smith apple, julienned
3 tablespoons mayonnaise
1 tablespoon apple cider vinegar
2 tablespoon honey
1 tablespoon poppy seeds
kosher salt and freshly ground black pepper to taste
Preparation
In a large bowl, combine the green cabbage, red cabbage, carrot and apple.
In a large glass measuring cup or another bowl, whisk together the mayonnaise, cider vinegar, honey, poppy seeds, salt and pepper, to taste.
Pour mixture over cabbage mixture and stir using a rubber spatula until well combined. Cover and place in the refrigerator for 1 hr
Kale Slaw with Raisins and Sunflower Seeds
Ingredients:
1 cup finely sliced purple cabbage
1 cup finely sliced green cabbage
2 cups shredded carrots
2 cups chopped green kale
¼ cup sunflower seeds
¼ cup golden raisins
¼ cup olive oil
3 tbsp. lemon juice
1 tbsp. honey
½ tsp. salt and pepper
Preparation
In a medium serving bowl, combine the purple and green cabbage, carrots and kale, seeds and raisins. Toss to combine.
In a small bowl, combine the olive oil with lemon juice, salt and pepper and whisk until thoroughly blended.
Drizzle the dressing over the slaw and toss until all the ingredients are lightly coated in dressing. Serve immediately or cover and refrigerate to marinate for up to several hours
Tomato and Cucumber Salad with Fresh Basil
Ingredients:
5 medium plum tomatoes, halved lengthwise, seeded, and thinly sliced
1/4 red onion, peeled, halved lengthwise, and thinly sliced
1 English cucumber, halved lengthwise and thinly sliced
A generous drizzle of extra-virgin olive oil, about 2 tablespoons
2 splashes red wine vinegar
Coarse salt and black pepper
1 bunch fresh basil chiffonade
Preparation
Dress the tomatoes, onions, and cucumber with olive oil, red wine vinegar, salt, and pepper.
Let stand while you prepare dinner, about 20 minutes. Re-toss and serve salad with crusty bread for mopping up juices and oil.
Creamy Red Skin Potato Salad
Ingredients:
2 pounds clean, scrubbed new red potatoes
6 eggs
1-pound bacon
1 onion, finely chopped
1 stalk celery, finely chopped
2 cups mayonnaise
¼ chopped Italian parsley
3 green onions - chopped
salt and pepper to taste
Preparation
Bring a large pot of salted water to a boil. Add potatoes and cook until tender but still firm, about 15 minutes. Drain and set in the refrigerator to cool.
Place eggs in a saucepan and cover with cold water. Bring water to a boil and immediately remove from heat. Cover and let eggs stand in hot water for 10 to 12 minutes. Remove from hot water, cool, peel and chop.
Place bacon in a large, deep skillet. Cook over medium high heat until evenly brown. Drain, crumble and set aside.
Chop the cooled potatoes, leaving skin on. Add to a large bowl, along with the eggs, bacon, onion and celery. Add mayonnaise, herbs and salt and pepper to taste. Chill for an hour before serving
*leave the egg and bacon out for a vegetarian option!
Greek Pasta Salad
Ingredients:
16 oz. short pasta (rotini, bow ties, penne)
3/4 long English cucumber, diced
1-pint grape tomatoes, halved
1 bell pepper (red or orange), thinly sliced
1/2 cup sliced pitted black olives
1/2 cup feta cheese, cubed
1/3 cup red onion, thinly sliced
Dressing:
1/4 cup red wine vinegar
1/3 cup olive oil
1/2 teaspoon garlic
1 teaspoon oregano
salt & pepper to taste
Preparation
Whisk together dressing ingredients.
Cook pasta al dente according to package directions. Rinse under cold water.
Combine all ingredients in a large bowl. Add dressing and toss.
Refrigerate at least 2 hours before serving.
Your PigOut Roaster has you ready to make all sorts of delicious Roaster Recipes. Pair them with these tasty sides!