How to Cook Breakfast on the Pigout Roaster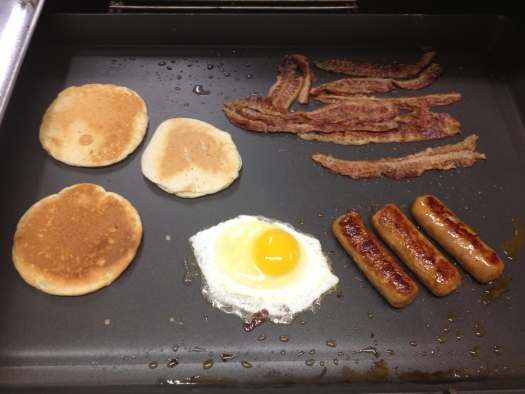 Where to Start
Use 2 water pans in the roaster to make sure that you capture as much heat as possible. Insert BBQ racks with cast iron griddles over the other 2 spaces. 1 water pan could be used as a hot hold for items you are just warming or to hold items when cooked. Use the 2nd water pan with an insert to make scrambled eggs.
Scrambled eggs
Spray with non stick cooking spray and add your beaten eggs. Close the lid and wait till the eggs start to coagulate. When the liquid eggs begin to start resembling scrambled, mix thoroughly every 5 mins until the desired texture is reached. Doing it this way you can make scrambled eggs for a large group.
Bacon, Sausage, Potatoes and Pancakes
Grease the griddle plates and cook directly on the griddle Sausages and larger items like chops and chicken pieces can be cooked directly on the BBQ racks but will take a little longer to cook than on a solid griddle plate.
Helpful Hints
To prevent scrambled eggs turning grey use a non stick or ceramic insert in the water pan. Available from your local restaurant supply retailer Purchase cast iron griddle plates from you local retailer (approximant dimensions 18" x 10" ) to fit onto your barbecue racks.
For other Roaster Tips or Recipes feel free to check out our other blogs, or contact us if you have any suggestions that you would like to try!
Remember for optimum cooking keep out of the wind and when possible keep the doors in place.