Perfect BBQ Pairings - Part Two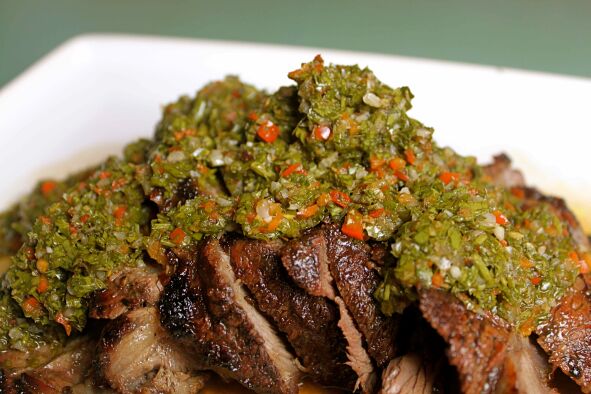 With the BBQ season coming into full swing, why not try out some new recipes which will be sure to help you hold your spot as the Grill Master for another year. Below you will find our second installment of recipes for perfect BBQ pairings that are sure to satisfy everyone at your party or event!
Chimichurri Sauce
A light and refreshing South American marinade for freshly grilled meat and veggies. Sure to impress any crowd!
20 – Servings
Ingredients
4 cups fresh parsley
12 garlic cloves
0.5-1 cup of fresh oregano
1 &1/3 cup of extra virgin olive oil
1 cup of red wine vinegar (garlic infused red wine vinegar is also a great substitute)
1 tablespoon of red pepper flakes
1 tablespoon of kosher salt (Himalayan rock salt or other large grain salts can also be used)
Optional: for a more powerful flavour you can choose to add more garlic or substitute the vinegar with garlic infused red wine vinegar, you can also add a teaspoon of lime juice or lemon zest for a more tart but refreshing flavour.
Directions
If you have a food processor you may add all fresh herbs(parsley/oregano) and garlic and process until finely chopped/minced, if by hand finely chop oregano/parsley and crush the garlic then mince. Transfer into large bowl.
Begin to add wet ingredients into the fresh herbs, slowly add the olive oil and red wine vinegar and stir until your preferred consistency.
If marinating proteins, separate half of your Chimichurri into a separate bowl and use to marinate. A rule of thumb is to marinate for a minimum of three hours, however the longer the better. With the second bowl of Chimichurri lightly salt and add pepper flakes to your preference.
The remaining bowl is now ready to use as a topping on any grilled meals such as; steak, lobster, chicken, even veggies like zucchinis and potatoes.
BBQ Baked Beans
40 – Servings
Ingredients
3 – 2.84 litre cans of brown beans (or largest cans you can find, can be beans in tomato sauce, maple syrup or whatever preference you have)
3 cups of PigOut BBQ Sauce (or preferred BBQ sauce)
¼ cup Molasses or Maple Syrup
¼ cup Hot Sauce (if making mildly spicey baked beans)
1 large diced sweet onion
1 pound think cut bacon or lardon (can substitute for pineapple or jackfruit)
Directions
Dice sweet onion and set aside.
Dice bacon (pineapple or jackfruit) and brown but do not fully/over cook.
Mix all ingredients together in a water pan or into a large crockpot dish.
If in water pan wrap tight with plastic cling film and tin foil.
Ensure plenty of water is in the base of your electric chaffing dish and set to cook overnight, if using a crockpot set to cook overnight, cover and set aside.
Stuffed Peppers with Quinoa
40 – Servings
Ingredients
20 large Bell Peppers – Cut in half and seeded
2 lbs of Quinoa – cooked
2 large cans of Chickpeas
½ cup of Italiano Seasoning
2 jars of preferred Tomato Sauce
Directions
Mix cooked quinoa, chickpeas and italiano seasoning together.
Arrange peppers into foil pans or on large oven pans with tin foil.
Stuff bell peppers with quinoa mixture.
Top with tomato sauce.
Bake at 350 degrees fahrenheit until peppers and tomato sauce lightly brown. (roughly 35-50 minutes)
(Option: you may also add shredded cheese to the top of the tomato sauce for added flavour and wow factor)
For more great recipes be sure to check out our other blogs or reach out to us directly or our sister company PigOut Catering for great ideas and event planning!