Inboden's Meats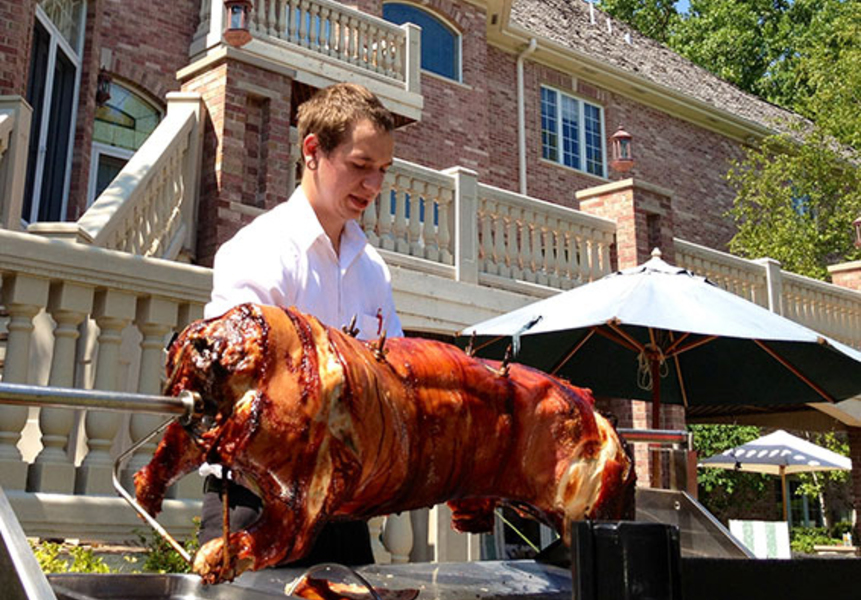 Request More Info
20 August 2013,
Inboden's Meats recently celebrated over 50 years of operation, a family-owned business with the the appeal of a small town classic meat and grocery market. Inboden's prides itself on preparing only the finest USDA Prime Meats naturally aged for tenderness and flavor. They have won numerous awards for their meat and continue to set the standard.
In 2006 Tom and his son Joe Inboden branched out into event catering. With great ingredients and knowledgeable staff they decided to specialise in pig roasting and BBQ catering. In 2009, they discovered the PigOut Roaster at the National Restaurant Show in Chicago and were impressed by its ability to produce a perfect pig roast in record time using very little fuel. They now own 4 Roasters to keep up with customer demand, roasting over 200 pigs a year and serving thousands of their Gold Champion Award Winning Sausages. Customers can rent a roaster with a BBQ pig ready to roast or arrange full catering services suitable for a range of events from fundraisers, corporate barbeques and weddings.
2012's most memorable event was feeding 1,400 with a drive through pig roast dinner as part of the Kishwaukee Sunrise Rotary Fundraiser, hundreds of cars filled with hungry families enjoyed the drive through experience raising $14,000.
Joe keeps his PigOut Roasters and Charcoal Barbeques busy at corporate and community events throughout Northern Illinois. No event is too large; the team of professional staff ensure the success of any event. Joe commented "People love the pig roast, it looks great and is always succulent and juicy, it makes any event more memorable".
Contact Tom or Joe, Inboden's Meats, Dekalb, Illinois on (815) 756 5852
Check out www.pigroastpros.com and get sample menus at www.meatplace.com/catering
Check out what their customers have to say:
Inboden's gave us everything we needed for our Pig Roast including great instructions on how to do the entire project. The hog came mounted and ready for roasting we rubbed it down with the salt and let it cook. The actual roaster was state of the art...very very easy to use and super easy to clean....clean up was a half hour with easy soap and water.
The pig came out perfect; the cook time they gave us for cooking was accurate and the pig itself taste fantastic. This by far was one of the easiest event I have ever cooked for and using the pig roaster from Imboden's made it that much easier. I will for sure be doing it again. A 10+.