Catering Creations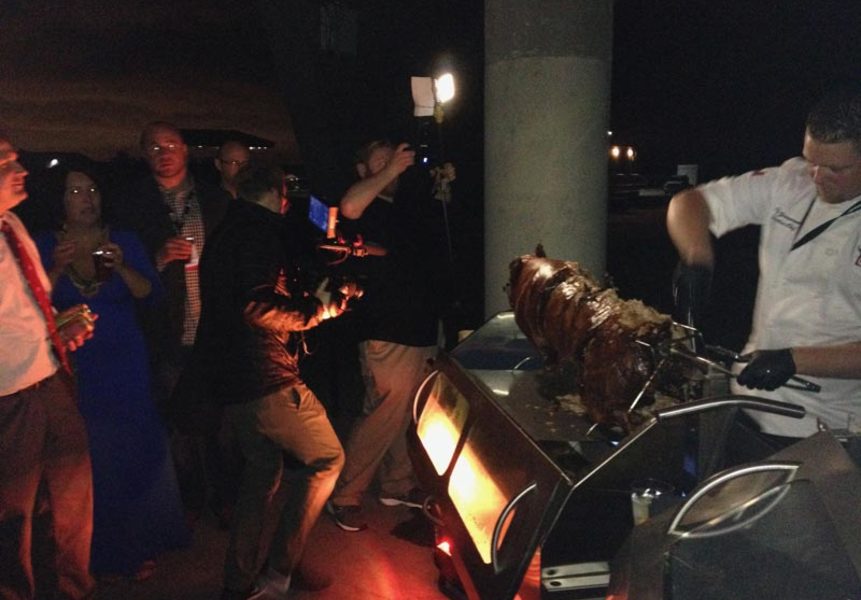 Request More Info
Catersource Success Story
11 April 2017,
I would have to say as a chef and an owner one of the best purchases we've made at Catersource Trade show would have to be the propane roaster from PigOut Roasters last year. We featured it at the Monday night's Tour de Lis event this year to show how easy and how well the machine works. It is as simple as they say, set it and forget it.

Basically all that is involved is seasoning and marinating the hog for 24-48 hours before and then the roaster does the rest. Until you do it yourself, its hard to believe the wow factor associated with this machine and carving up a pig at any event. Guests go crazy with excitement even before they have tasting anything. It works so well, so easy, and has such a WOW factor we are creating a new division just around the roaster! Not only is the roaster easy to work with so are the Owners/Creator of the roaster and all of their staff.

My hats off to Alan & Anne Dickson owners of a great company and product. I also can't forget how help, wonderful and talented their Chef Drew Zimmerman was in answering all my question.
Thanks PigOut Roasters Jeff Snow
Owner/Executive Chef
Catering Creations
1915 Jackson St.
Omaha, NE 68102
Phone: 402-558-3202 or Moble 402-490-1855
Fax: 1-866-431-6254
www.cateringcreations.com
jeff@cateringcreations.com
First Place Caterer: Best of Omaha Winner for 5 Years in a Row 2011-2015!
Best of Omaha Winner's Circle 2010
The Knot Best of Weddings 2012
Readers' Choice Best of the Big O 2012
Wedding Wire's Bride's Choice Award 2010, 2012, and 2013
National ACE Award Winner for Achievement in Catering Excellence: Midwest Division 2013
National ACE Award Finalist for Achievement in Catering Excellence: Midwest Division 2011-2013
Invitation Only Member of the Exclusive Leading Caterer's of America
Photos, Event Planning Tips, and Upcoming Events at www.Facebook.com/CateringCreations