The PigOut Propane Roaster Dimensions & Versatility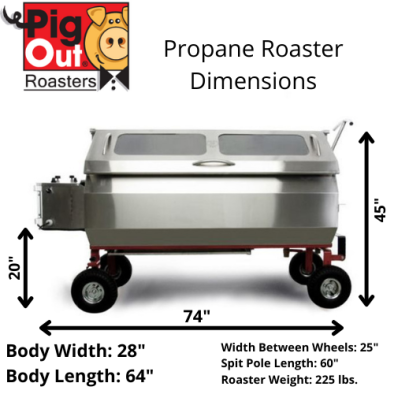 Pig Roasting: Any Time, Any Place, Anywhere
With the PigOut Propane Roaster all you need is a pig, a typical 20-pound BBQ propane tank, some buns and BBQ sauce and you are in business. The Propane Roaster is designed for off-road events whether it be in; your backyard, at the cottage, on the patio, rural catering venues, beachside parties, the ski lodge, you name it. Heated by two incredibly fuel efficient, smoke and fume free, 57,000 BTU burners, that sit within a bevel of the body to protect them from drippings and flare ups, you can cook a 120lb pig in approximately 6 hours without running out of fuel. Off-site catering and outdoor cooking have never been easier than with a PigOut Propane Roaster.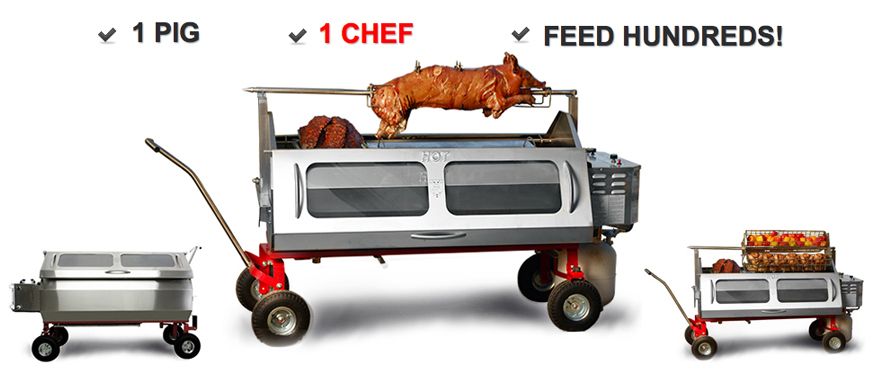 The PigOut Propane Roaster is manufactured here in Canada using high grade 16 Gauge, 304 Stainless steel and is tig welded without rivets for a lifetime of repeated use without rust or warping. These units are 100% composed of American and Canadian parts, ETL and CSA approved, and are backed by a lifetime warranty on the body and burners so you know your investment will continue to produce returns year after year.
The Propane Roaster itself was designed with commercial use in mind and is ideal for caterers and restaurant owners alike who wish to provide premium out of kitchen cooking capabilities and the ability to amaze their clients with professional on-site serving. Paired with the available attachments your Propane Roaster will add a wide range of versatility to your business including; roasting, grilling, steaming, smoking, hot-holding, carving and serving all from one location, at any location.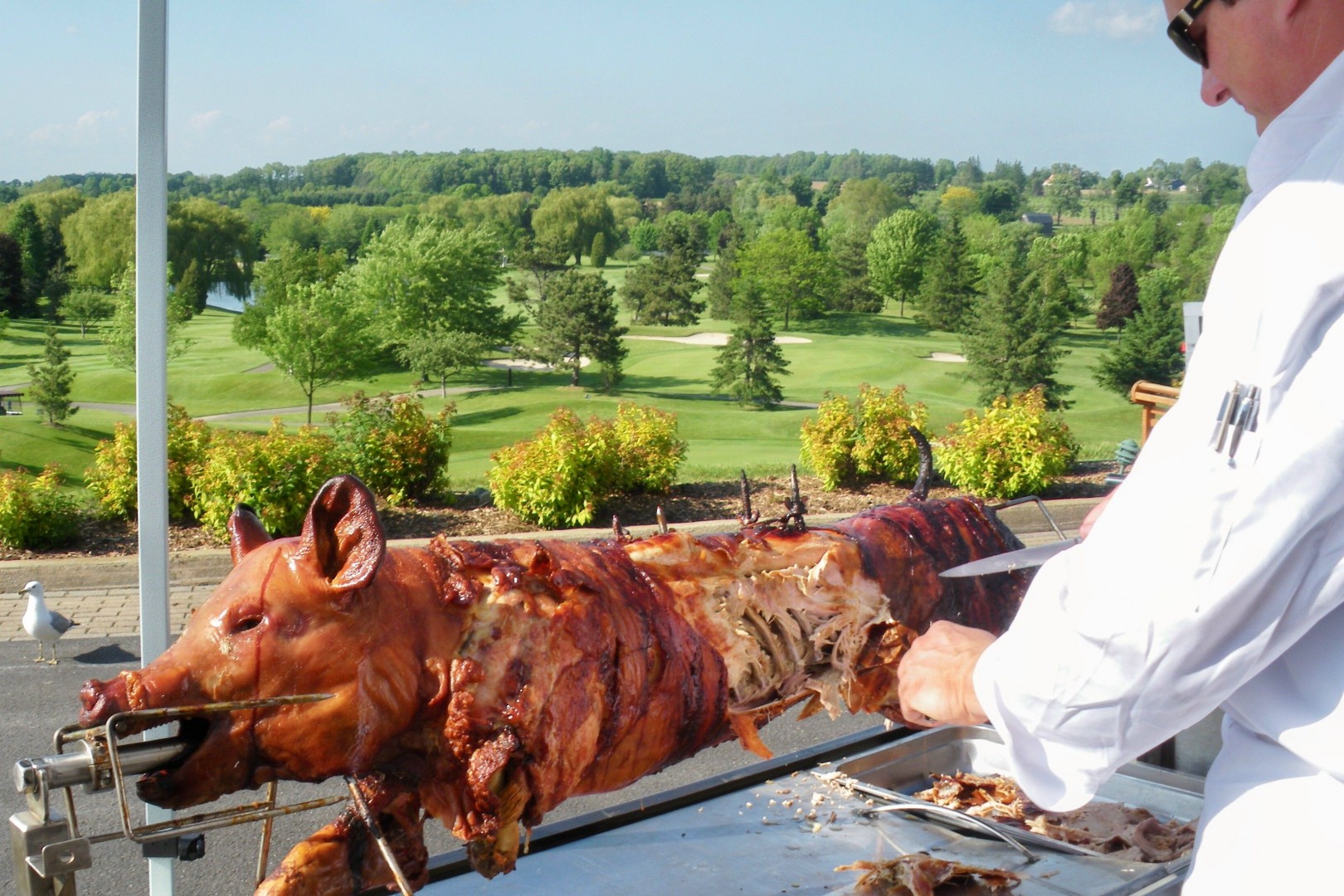 Off-Road Roasting - a Unique Quality of the PigOut Roaster
The Roasters 10" pneumatic all terrain tires are accompanied by a wagon axle for ultimate maneuverability and ease of transportation with a low center of gravity and a locking mechanism in place to allow you to conquer uneven grounding. Whether it be grass, sand, gravel, or even snow this unit can tackle it with ease. The Propane Roaster is even designed to fit through traditional sized doors and garden gates so getting to that back-yard event or onto your restaurant's patio won't be a problem.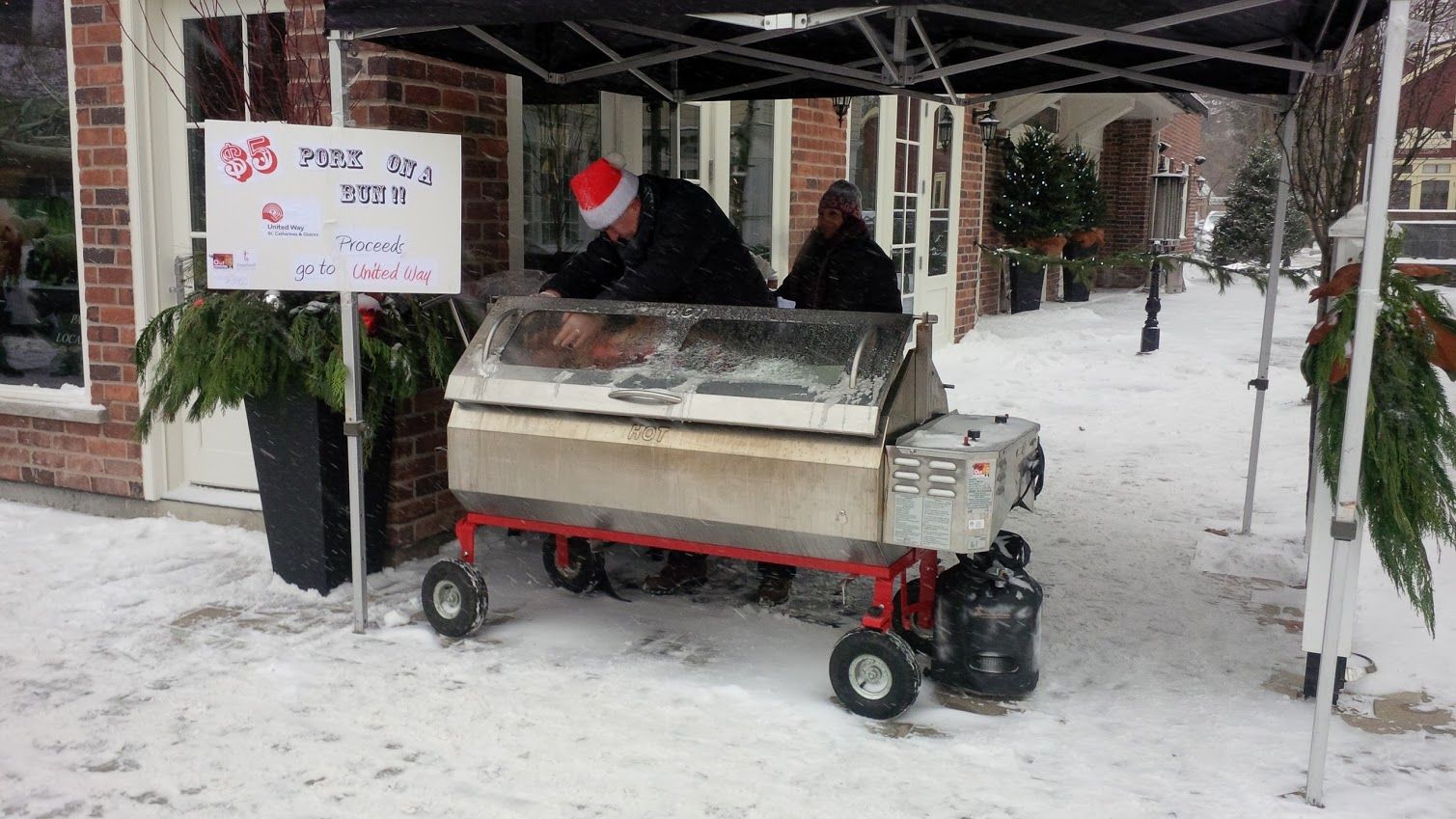 The Propane Roaster can also be transported to off-site locations easily as it was manufactured to allow a typical pickup truck with a regular sized bed to fit up to two units at a time, or you can choose to fit one Roaster and use the remaining space for your PigOut Insulated Pig Carry Bag and other catering essentials. So long as the bed of your truck is at least 64" long the Roaster will fit snug into the back of your pickup as the motor console is elevated 20" from the base of the wheels and will fit over your tailgate.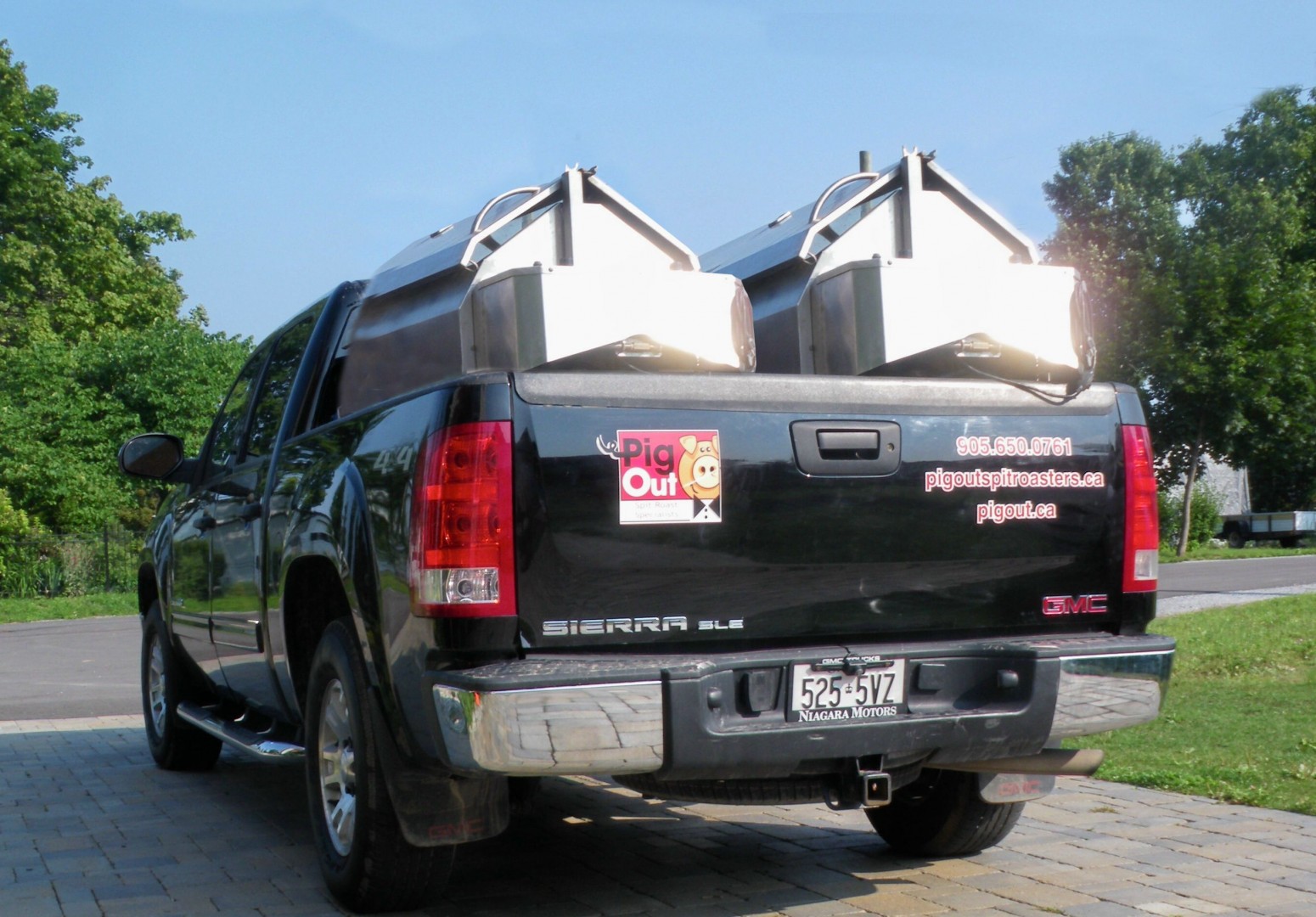 Roaster Dimensions
The Propane Roaster itself is 74" long in total from the back of the wheels to the front of the motor console, 28" wide, and 45" tall from the base of the wheels to the top of the body. Without additional accessories the Roaster weighs 225 pounds and comes equipped with a 60" stainless-steel spit pole and all of the necessary clamps you need to roast large proteins (2 Four-Prong Clamps, Two Spine Brackets, Two Triangle Leg Brackets). For visual reference of the Roaster dimensions refer to the "Propane Roaster Dimensions" graphic.