How to Make Big Profits Catering at Sport Events & Festivals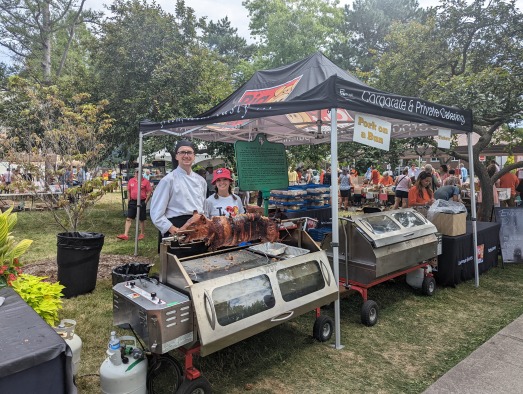 There is a great opportunity to make big bucks when catering for large crowds at sporting events and festivals, however, there is also the risk that you can lose your shirt; when you speculate on sales you always take the risk of overbuying which can lead to food waste and less profit. From a 4-hour gig to a 3-day event the same principles apply. You need to maximize your sales whilst managing your labour cost and potential food waste. Often you are committed to be on site for long periods of time with only a few really busy hours.
Speaking with several large mobile caterers we have identified the best ways to capitalize on profits.
Sell large volumes of food that you can pre-prepare, hold and serve quickly

Create a WOW appeal - let people see & smell what you are cooking

Offer a simple menu that appeals to your audience - not too many choices or variations

Large, clear signage that makes it easy for people to pre choose

Offer a kid-friendly item at a low price point and maximize price on all other items

Carefully allocate your staff to have the best/fastest employees on order-taking/cash



Food purchasing plays a big part, do you buy fresh or frozen products? Frozen is best if you are not confident on sales volumes, but can take longer to cook and you may not have the freezer space needed to hold the product. Fresh is great if you have the storage and can source local deliveries directly to your location as needed during the event. Partnering with larger events where reefer trucks are provided has a massive advantage, alternatively, there are companies that rent trailer fridges/freezers that you can base beside your unit. Having a local baker deliver fresh bread products directly to you is another ideal situation.
When you are competing against other food vendors you need to have a WOW factor, without this it becomes simply about price and shortest lines. Having a long line that moves quickly, and selling a premium-priced product is your goal. In Canada, we think of poutine topped with beef short rib as an ideal menu item that can be produced quickly and allows you to charge a premium price. Pulled pork and other proteins that can be pre-cooked and held hot, ready to serve give you maximum opportunity for volume sales.
Integrating a hot hold table, with menu items that are ready to serve allows the chefs/cooks to cook in bulk, they supply the servery rather than trying to fulfil individual orders. It makes it easy for staffers to fill orders if the menu items are ready.
Matt at Redline Catering purchased a PigOut Roaster so that he could offer pig roasts to his corporate bbq clients, however, his roaster has become an asset when catering at regular farmers' markets and festivals. Their BBQ Ribs and pulled pork are prepared in advance and then heated and held in the roaster allowing quick service, the other benefit is that the customers can see the food, and the glass door acts as a sneeze guard and helps to keep everything hot. The chef adds simple sides such as slaw and Mexican-style corn which have low food costs and are quick to produce.
For more information on adding a portable steam table to your operation click here.