Covid-Safe Catering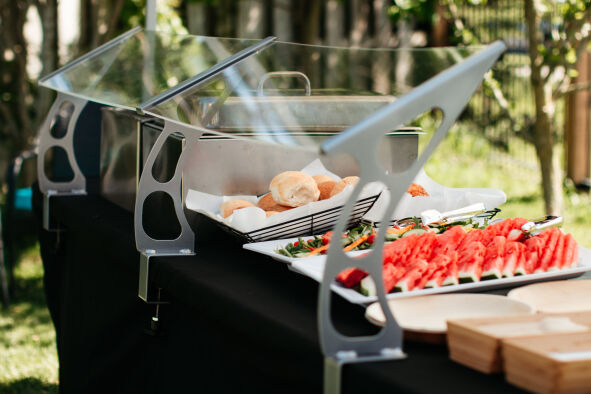 With the everchanging 2020 landscape it is now more integral than ever to put an emphasis on food safety and handling to not only ease the minds of our clients, but to protect them and our staff as well. Almost all caterers are suffering from postponed and cancelled events and are concerned as to whether business levels of old will ever return.
Due to government restrictions in North America on operating businesses and gathering sizes, most individuals in our industry can't help but to feel a sense of uncertainty and hopelessness regarding their businesses' immediate future. Dwindling retained earnings and a reduction in potential new leads leaves the horizon looking somewhat grim. Things simply aren't what we are used to, and sadly, they aren't going to be going back to normal anytime soon.
So what do we do to overcome these new hurdles? Is there anything we can do other than wait out the figurative storm and risk going under?
Well, we could argue that there are things that can be done, but first we need to look at reinventing our operations. This requires shifting our focus and providing alternative food service solutions to get ahead of our competitors. While taking the government's new restrictions into consideration, such as; the new Public Health Departments requirement that all food being served is to be protected by a cover or screen, now is a time to take action in preparing ourselves to be able to hit the ground running when we can open our doors again and get back to what we love.
Whether you move your operation to luxury lunch boxes or curbside pickup, changes need to be made.
This is a time that we should be investing in the proper equipment that allows us to be compliant with new regulations, but also to make visible changes that will resonate with our clients. Simple additions such as the table-top sneeze screens pictured below; these will not only help us to comply with regulations, but will create a sense of comfort for your clients and staff alike. A bit like the seat belt on an aeroplane!

The use of a sneeze screen like these produced by "Dickson's Catering Equipment" will not only help to create physical distance between staff and patrons, but limits the impact of airborne particles whilst allowing patrons to see the food choices available to them. It's safe to assume that even when gathering restrictions lift, the thought of physical distancing and extra safety precautions will be front of mind for potentially years to come.
Another post-quarantine preparation you should include in your business model is that of a sanitizing station. This is a valuable resource for a multitude of reasons, but to list a few;

Lets your customers and staff know that you care about their safety

Ease of access for not only your own staff but for customers as well

Helps you to fulfill Public Health recommendations

Limits the potential for spread of Covid or any other pathogens

Now is a time to be diligent in your preparation for when work begins to return to normal, the initial investment of time and financial input will pay off exponentially allowing you to set yourself apart from your competitors and get back on the road to catering success.
If you are interested in learning more about covid-catering safety precautions or have any tips you use yourself,
let us know
and we will share the word with the
catering community
!